Semi-Inground Pools
Stealth Semi-Inground Pools for Dallas, Allen & DeSoto
Want the custom inground look for a lot less money? Semi-inground pools combine benefits of both above ground and inground swimming pools. They are more customizable than above ground pools with features such as decking or pavers that can be added to create the appearance of an inground pool but still have a lower cost to build and maintain. When done correctly by our in-house stone mason team it can be a fortunate property value addition.
Crown Pools is proud to offer the Stealth pool, the best brand of steel wall semi-inground pools in the industry.
What to Expect When Building a Semi-Inground Pool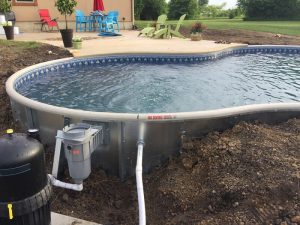 The Stealth Semi-Inground pool is the most flexible option in the market, they can be installed semi-buried or completetly buried. The installation process for a semi-inground pool is fast and easy, and it usually takes between 1-3 days. Crown Pools can handle everything from the excavation, installation, backfill, dirt removal, and all future maintenance and services for the new pool.
The semi-inground pools are a great option if you have a backyard with uneven ground, slopes, hills, or any other features that would make challenging or very expensive to install a traditional inground pool.
Now let's go over some features to consider of the Stealth Semi-Inground Pools.
The pool comes in a kit, which is easy to ship and store. The installation is easy than a regular inground pool, requires less excavation and construction. Stealth pools are built to last you several years. They're sturdier than above ground pools and come with a lifetime warranty. The maintenance of a semi-inground pool is the same as any other pool.
We're looking forward to starting your project and making the pool of your dreams a reality. Get in contact with us today or visit any of our 3 locations in Dallas, Allen and DeSoto, and don't forget that you can come to us for any of your pool needs.
Oval
52″ Wall Height
Strong 3″ Top and Bottom Flanges
14 ga Z720/G235 Galvanized North American Steel Wall Panels
Specially designed horizontal strengthening straps
Heavy Duty 12 ga Support Buttresses
Sizes:
20'x10', 30'x15', 24'x12', 33'x18'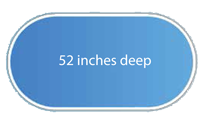 Free Form
52″ Wall Height
Strong 3″ Top and Bottom Flanges
14 ga Z720/G235 Galvanized North American Steel Wall Panels
Specially designed horizontal strengthening straps
Heavy Duty 12 ga Support Buttresses
Sizes:
22'x13', 28'x16', 32'x18'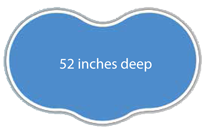 Grecian
52″ Wall Height
Strong 3″ Top and Bottom Flanges
14 ga Z720/G235 Galvanized North American Steel Wall Panels
Specially designed horizontal strengthening straps
Heavy Duty 12 ga Support Buttresses
Sizes:
24'x12', 28'x14', 32'x16', 36'x18'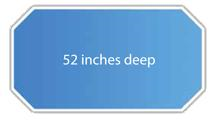 Round
52″ Wall Height
Strong 3″ Top and Bottom Flanges
14 ga Z720/G235 Galvanized North American Steel Wall Panels
Specially designed horizontal strengthening straps
Heavy Duty 12 ga Support Buttresses
Sizes:
15', 18', 21', 24', 28', 30', 33', 36'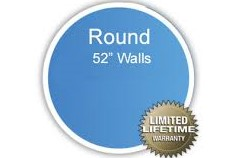 ---