Hot Tubs
Bahama Spas Hot Tubs in Dallas, Allen and surrounding areas

Crown Pools has been in the business of providing the best pools in the market since 1972, and for a few years now we offer the best Hot tubs & Swim Spas made by Bahamas Spas.
Step outside your fast-paced life and into the soothing, effervescent, crystal clear waters of Bahama Spas. Bahama Spas has the perfect fit for every spa enthusiast. Built to last and designed for comfort, Bahama Spas offers everything discerning spa owners crave. Ample room and first-class amenities make for a winning combination while high performance equipment and a wide variety of jets ensure users true hydrotherapy. Bahama Spas will bring a sense of vacation to your backyard and a sense of serenity to your life.
Why Bahama Spas
With your purchase of a Bahama Spa, you've made an investment in improving your health and your lifestyle. Immerse yourself into the warm soothing waters for your daily dose of vacation and relaxation.
We're looking forward to hearing from you and help you create the perfect home retreat! Get in contact with us today or visit either our Dallas or Allen Location, and don't forget that you can come to us for any of your spa needs.
Product Specifications:
SimpleClear™ UV-C Water Sanitization
Cascading Waterfall
Electrical 220V / 110V AMPS 60A / 20A
XE Power Pack
*VGB Compliant Intake
Pumps (Qty / Size BHP) 1/6 – 1/3
4kW Heater
Filtration System Size 50 ft.2
Icynene™ Insulation
LED UnderwaterLighting
Seating for 2 Adults
Water Capacity: 130 gal.
Dimensions: 72″x 72″x 33.5″
21 jets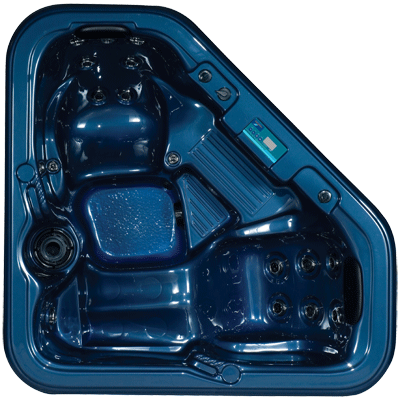 Product Specifications:
SimpleClear™ UV-C Water Sanitization
Fountain Jets
Electrical 220V / 60A
XE Power Pack
*VGB Compliant Intake
Pumps (Qty / Size BHP) 1/6.0
Pump Frame 56
4kW Heater
Filtration System Size 50 ft.2
Icynene™ Insulation
LED UnderwaterLighting
Seating for 3 Adults
Water Capacity: 225 gal.
Dimensions: 60″x 82.5″x 33.5″
36 jets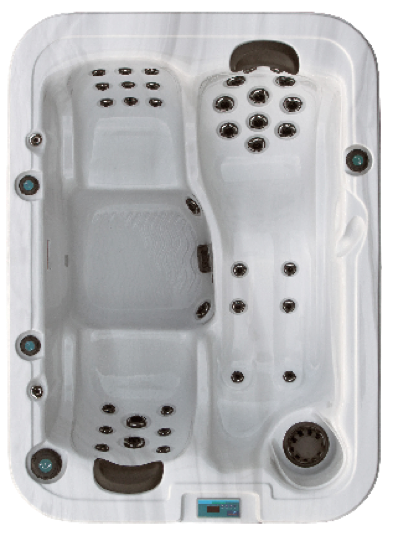 Product Specifications:
SimpleClear™ UV-C Water Sanitization
Fountain Jets
Electrical 220V / 60A
Digital Controls
*VGB Compliant Intake
Pumps (Qty / Size BHP) 2/6.0
Pump Frame 56
4kW Heater
Filtration System Size 50 ft.2
Icynene™ Insulation
LED UnderwaterLighting
LED Filter Lighting
Seating for 3 Adults
Water Capacity: 225 gal.
Dimensions: 60″x 82.5″x 30″
50 jets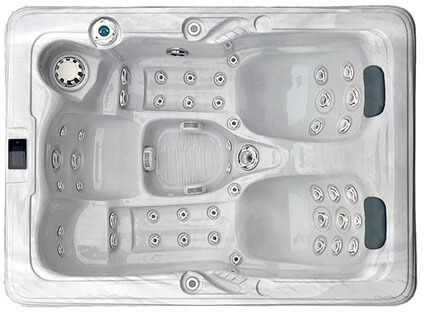 Product Specifications:
SimpleClear™ UV-C Water Sanitization
Cascading Waterfall
Electrical 220V / 110V AMPS 60A / 20A
XE Power Pack
*VGB Compliant Intake
Pumps (Qty / Size BHP) 1/6 – 1/3
4kW Heater
Filtration System Size 50 ft.2
Icynene™ Insulation
LED UnderwaterLighting
Seating for 5 Adults
Water Capacity: 320 gal.
Dimensions: 81″x 79″x 36″
30 jets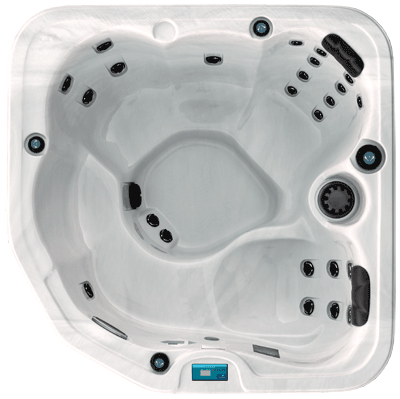 Product Specifications:
SimpleClear™ UV-C Water Sanitization
Cascading Waterfall
Electrical 220V / AMPS 60A
XE Power Pack
*VGB Compliant Intake
Pumps (Qty / Size BHP) 2/6.0
Pump Frame 56
4kW Heater
Filtration System Size 50 ft.2
Icynene™ Insulation
LED UnderwaterLighting
LED Filter Lighting
Seating for 6 Adults
Water Capacity: 325 gal.
Dimensions: 82″x 82″x 39″
42 jets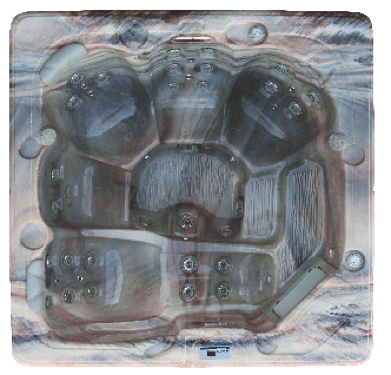 Product Specifications:
SimpleClear™ UV-C Water Sanitization
Fountain Jets
Electrical 220V / AMPS 60A
Digital Controls
*VGB Compliant Intake
Pumps (Qty / Size BHP) 2/6.0
Pump Frame 56
4kW Heater
Filtration System Size 50 ft.2
Icynene™ Insulation
LED UnderwaterLighting
LED Filter Lighting
Seating for 6 Adults
Water Capacity: 425 gal.
Dimensions: 92″x 92″x 39″
42 jets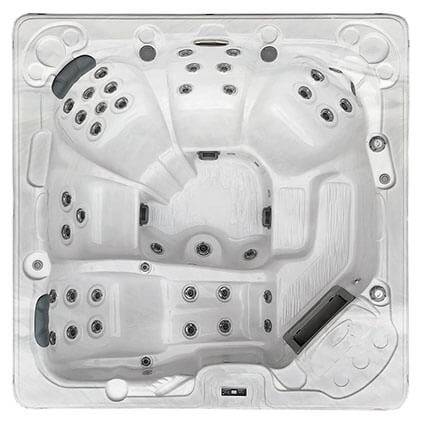 Product Specifications:
SimpleClear™ UV-C Water Sanitization
Cascading Waterfall
Fountain Jets
Electrical 220V / AMPS 60A
XE Power Pack
*VGB Compliant Intake
Pumps (Qty / Size BHP) 2/7.0
Pump Frame 56
4kW Heater
Filtration System Size 100 ft.2
Icynene™ Insulation
LED UnderwaterLighting
Seating for 6 Adults
Water Capacity: 350 gal.
Dimensions: 82″x 82″x 39″
73 jets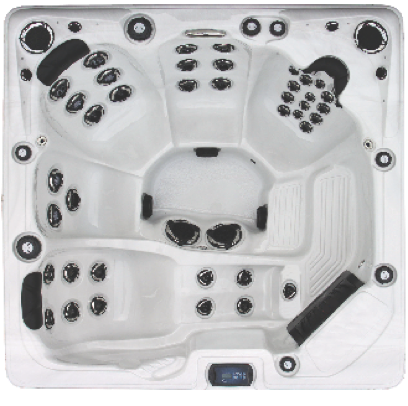 Product Specifications:
SimpleClear™ UV-C Water Sanitization
Fountain Jets
Cascading Waterfall
Electrical 220V / AMPS 60A
Digital Controls
*VGB Compliant Intake
Pumps (Qty / Size BHP) 2/7.0 or 3/6.0
Pump Frame 56
4kW Heater
Filtration System Size 100 ft.2
Icynene™ Insulation
LED UnderwaterLighting
Seating for 6 Adults
Water Capacity: 425 gal.
Dimensions: 92″x 92″x 39″
74 jets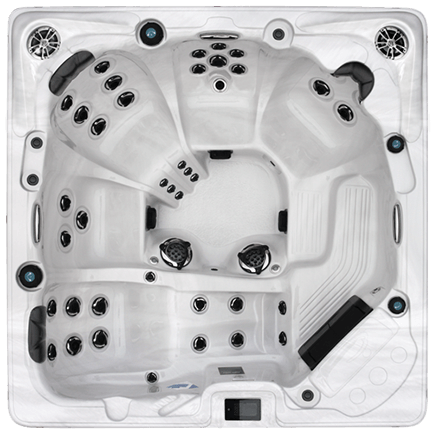 Product Specifications:
SimpleClear™ UV-C Water Sanitization
Cascading Waterfall
Electrical 220V / AMPS 60A
XE Power Pack
*VGB Compliant Intake
Pumps (Qty / Size BHP) 2/7.0 or 3/6.0
Pump Frame 56
4kW Heater
Filtration System Size 100 ft.2
Icynene™ Insulation
LED UnderwaterLighting
Seating for 5 Adults
Water Capacity: 425 gal.
Dimensions: 92″x 92″x 39″
74 jets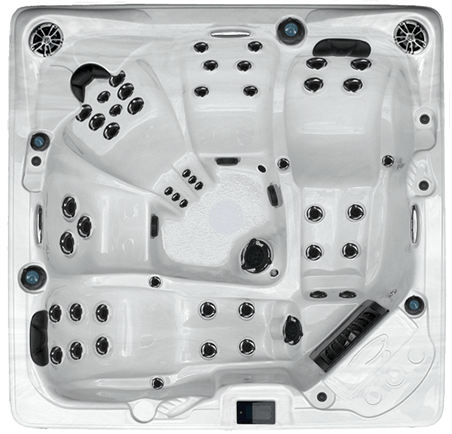 Product Specifications:
SimpleClear™ UV-C Water Sanitization
Cascading Waterfall
Electrical 220V / AMPS 60A
XE Power Pack
*VGB Compliant Intake
Pumps (Qty / Size BHP) 2/6.0
Pump Frame 56
4kW Heater
Filtration System Size 50 ft.2
Icynene™ Insulation
LED Underwater Lighting
LED Filter Lighting
Seating for 7 Adults
Water Capacity: 325 gal.
Dimensions: 82″x 82″x 39″
42 jets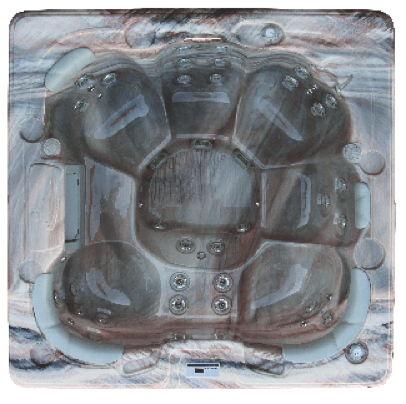 Product Specifications:
SimpleClear™ UV-C Water Sanitization
Fountain Jets
Electrical 220V / AMPS 60A
Digital Controls
*VGB Compliant Intake
Pumps (Qty / Size BHP) 2/6.0
Pump Frame 56
4kW Heater
Filtration System Size 50 ft.2
Icynene™ Insulation
LED Underwater Lighting
LED Filter Lighting
Seating for 7 Adults
Water Capacity: 425 gal.
Dimensions: 92″x 92″x 39″
42 jets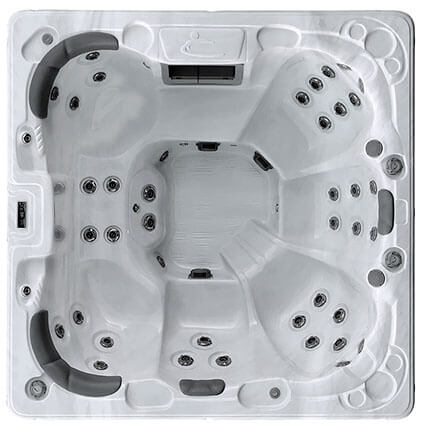 Product Specifications:
SimpleClear™ UV-C Water Sanitization
Fountain Jets
Cascading Waterfall
Electrical 220V / AMPS 60A
XE Power Pack
*VGB Compliant Intake
Pumps (Qty / Size BHP) 2/7.0
Pump Frame 56
4kW Heater
Filtration System Size 100 ft.2
Icynene™ Insulation
LED Underwater Lighting
Seating for 7 Adults
Water Capacity: 350 gal.
Dimensions: 82″x 82″x 39″
73 jets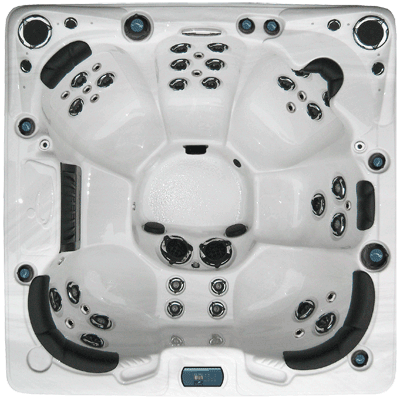 Product Specifications:
SimpleClear™ UV-C Water Sanitization
Fountain Jets
Electrical 220V / AMPS 60A
Digital Controls
*VGB Compliant Intake
Pumps (Qty / Size BHP) 2/7.0 or 3/6.0
Pump Frame 56
4kW Heater
Filtration System Size 100 ft.2
Icynene™ Insulation
LED Underwater Lighting
Seating for 7 Adults
Water Capacity: 425 gal.
Dimensions: 92″x 92″x 39″
76 jets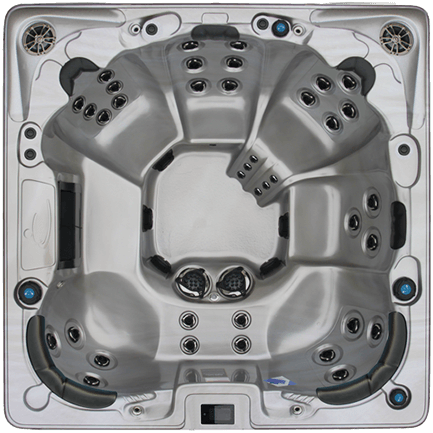 Product Specifications:
SimpleClear™ UV-C Water Sanitization
Fountain Jets
Electrical 220V / AMPS 60A
Digital Controls
*VGB Compliant Intake
Pumps (Qty / Size BHP) 2/7.0 or 3/6.0
Pump Frame 56
4kW Heater
Filtration System Size 100 ft.2
Icynene™ Insulation
LED Underwater Lighting
Seating for 7 Adults
Water Capacity: 475 gal.
Dimensions: 92″x 102″x 39″
77 jets