Crown Pools | Custom Pool Builder in the DFW and surrounding areas
Why a Custom Gunite Pool from Crown Pools?
Custom gunite pools are the most elaborate of the different types of pools Crown Pools offers. These permanent, reinforced pools are built exactly the way you want them, and they include all of the features you want in a backyard oasis. We only use top quality materials, and our trained professionals share the best ethics and a dedication for customer service.
In business since 1972, Crown Pools has built a great reputation in the DFW Area with hard work, dedication and integrity. We do everything from installation to remodeling and re-plaster. No matter the challenge, we handle the job with efficiency and speed. Browse through our Pools gallery for inspiration for your upcoming Crown Pools' project.
Things to Consider
There are many things to consider when designing your custom gunite pool, including the following: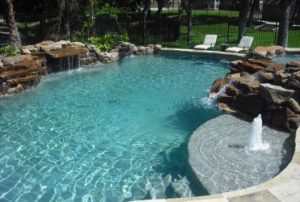 Interior Gunite Finish: You can choose from a variety of finish selections, including classic white plaster, pebble aggregate, colored plaster, polished marble, glass bead, painting and tile. Textured finishes may lightly abrade swimwear and skin. The flexibility of building a gunite pool allows you to create areas with steps, bar stools, and benches, making your pool a reflection of your personality and your home.
Decking and Coping: From stained and stamped concrete to natural stone, cool deck (coating, colored or textured), deck pavers or tile, your decking choices are unlimited. While cantilever decking edges that blend from the deck into your pool are most frequently used, another popular alternative is brick coping to accent the outline of your pool. You can enhance different areas around the pool, use multiple colors, patterns and styles, your imagination is the limit with the variety Crown Pools has to offer.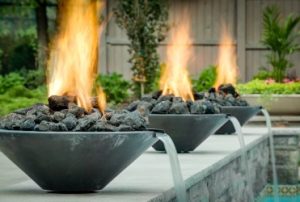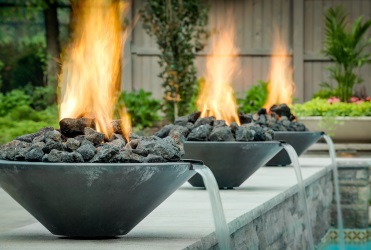 Upgrades & Accessories: It is generally more cost effective to include the extra features you want at the time of the initial installation, however, any features can be added after installation. Water Features will give to your pool that extra touch of paradise you're looking for. Include an Automation System for your Pool & Spa combo, and you will have control of your pool right at your hands. You can also accessorize your backyard poolscape with volleyball and basketball setups, grills, safety fencing, slides, loungers, automatic covers and outdoor furniture.
Installation: Custom gunite installation takes between 8 to 12 weeks before completion, however that time may vary with state and local inspection criteria. Crown Pools will include the precise terms, time frames and responsibilities of each party in your contract. Starting from the Pool Design all the way to finally jumping in your New Pool, we will make this the best buying experience possible, come and learn why "Crown Pools are Fun" and "Get'cha one"
We're looking forward to start in your project and make the pool of your dreams a reality. Get in contact with us today or visit any of our 3 locations in Dallas, Allen and DeSoto, and don't forget that you can come to us for any of your pool needs.