Water Features
Deck Jets, Waterfalls & More Pool Water Features for Dallas, Allen & DeSoto
Water Features can bring a whole new dimension to your backyard pool. From something like a simple deckjet to a more extravagant feature like a natural waterfall, the concept of moving water attracts attention and gets people talking. By incorporating water features into your poolscape, you'll not only add an artistic element, but more depth and character, as well.
We're looking forward to start in your project and make the pool of your dreams a reality. Get in contact with us today or visit any of our 3 locations in Dallas, Allen and DeSoto, and don't forget that you can come to us for any of your pool needs.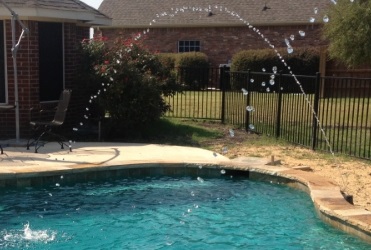 Deck Jets
Deck Jets use air to shoot streams of water from the deck into the pool. They make for particularly fascinating water features at night when backlit with LED lights. Your kids will love chasing the glowing water!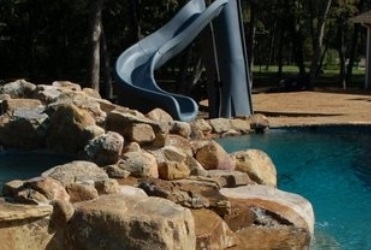 Slides
Gone are the days of the unattractive plastic tube slide. Our custom built pool water slides are designed to accentuate your overall pool design while offering hours of pool fun. Each water slide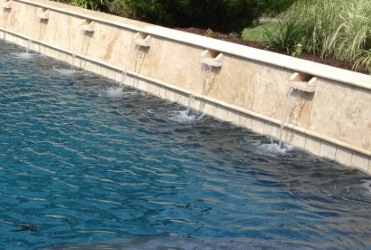 Scuppers
A Scupper is a straight, linear water feature that drops a clean, sheet of water into your pool. These water features create a soothing water sound with an elegant, majestic look.
Bubblers
Bubblers are fun water features that spout up from shallow pool surfaces like steps and beach entries. When combined with the right aesthetic lighting, they can create striking centerpieces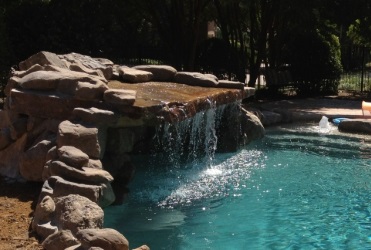 Grottos
Create a romantic getaway or a place for pirate's treasure – in your own pool! A grotto uses rock & boulders (natural or man-made) to create a small cave where water runs-off, giving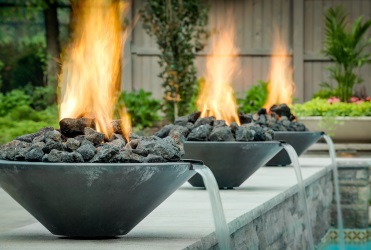 Fire Bowls
Fire water bowls are water features with a split personality! During the day, they are unassuming, but are a great focal point of your swimming pool. At night, they come alive as their flames