Landscaping, Outdoor Kitchens & More for McKinney, Allen & Dallas
Enhance the enjoyment of your new pool and spa with the variety of additional offerings from Crown Pools. From custom-designed landscaping with soft accent lighting, to an outdoor kitchen, living area and fireplace, our designers can create a master plan perfectly tailored to your family's needs and lifestyle, and our skilled construction team can turn your vision into a beautiful reality!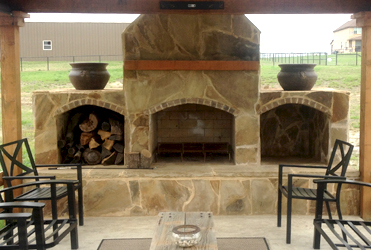 Nothing sets the mood quite like the flicker of an open flame on a cool evening. From gorgeous brick constructed to rustic outdoor fireplaces – your friends and family will love gathering around the fire for s'mores, stories or even a romantic cuddle.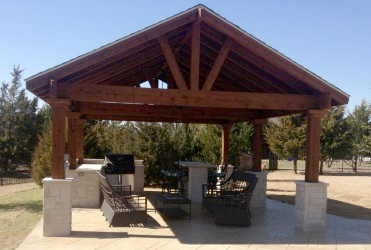 Create an outdoor entertainment living space by adding a cabana to your poolscape. A cabana is a roofed in structure, that offers shade and shelter from rain, with at least one wall open. Add an outdoor kitchen or just some tables and chairs – whatever best fits your needs.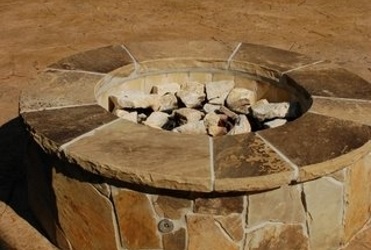 What better way to enjoy the outdoors during the cooler months than gathered around an outdoor fireplace or fire pit with family or friends? Whether roasting hotdogs and marshmallows, singing campfire songs, or simply curling up with a hot cider and a good book, the comforting glow of an open flame has an undeniable allure.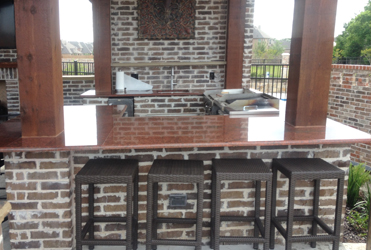 Take your barbecues to the next level with a custom designed, fully equipped outdoor kitchen. Choose from a selection of features including built in grills and hot-plates, refrigerators, kegerators, cabanas, built in bars, and custom built stone pizza ovens. You'll love how easy and enjoyable entertaining can be!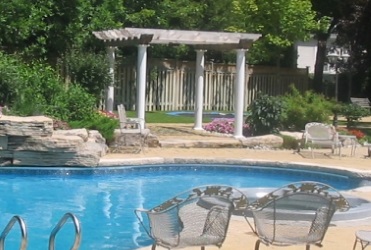 If you want shade with an open air feel, a pergola may be what you have in mind. A pergola is a great way to create shade at a reasonable cost. These types of structures can usually be built in just a couple of days and there are a variety of materials and design options available to consider.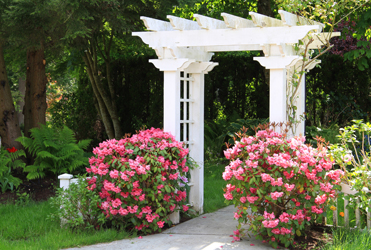 An arbor has an outdoor open air feel, providing partial shade, but usually contains latticework on which plants, such as climbing shrubs or vines, are grown.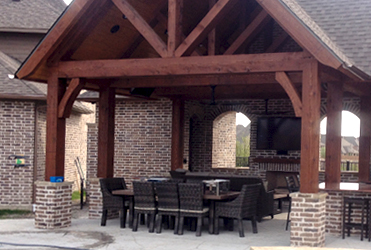 If you like being outdoors, but do not always want to be "in" the sun, We offer several outdoor living options to remedy this. Patio covers are very popular with homeowners and give you full roof coverage, unlike the open air aspect of an arbor or pergola. Patio covers can be either free-standing or attached to an existing structure.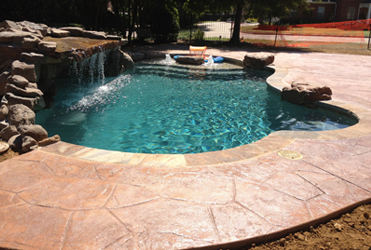 Help your poolscape and outdoor living area stand out with the perfect decking. There are many materials on the market today that will perfectly complement your space, and we will help you choose the one that best suits your area. The options are endless.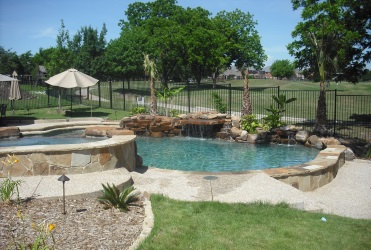 Whether you've envisioned an exotic backyard paradise or a tranquil garden, our landscaping specialists will create a landscape that works in conjunction with your overall outdoor needs, the unique traits of your site, and the demanding extremes of the Florida climate to give you an easily managed and beautifully structured landscape you can be proud of.