Crown Pools | Vinyl Pool Builder in the DFW and surrounding areas

Crown Pools offers the best custom vinyl inground pool options on the market today, and they are available in a variety of shapes, sizes and liner patterns, as well as have a number of accessories to choose from to create stunning backyard oasis that perfectly complements your personality.
When you're planning to create a more customized look in your backyard, the custom inground vinyl pool is a wonderful and affordable option, because of their lower upfront cost and overall look, these pools are a popular choice for people who want something easy to install without the budget of a gunite pool.
When you speak with your Crown Pools design specialist, you can expect to be shown all of the options available to determine which custom inground vinyl pool set up will best fit your backyard. Be sure to browse through our Pools gallery to get some inspiration for your upcoming Crown Pools project.
Why Custom Inground Vinyl Pools?
Inground vinyl pools, or package pools, are less labor intensive than a concrete pool and less expensive to build because the method of construction is simple. Typically, custom vinyl inground pools feature reinforced walls. While rectangular pools are the most common, L-shaped, freeform and other shapes are also available.
Since excavation is necessary before installation, these pools will fall into a higher price range than above ground pools. But with that higher, yet affordable, price point you can customize your pool with many options, including new liner patterns and colors, as well as additional features, like waterfalls, lighting, and even spas.
Things to Consider
Some considerations when designing your custom vinyl inground pool include the following: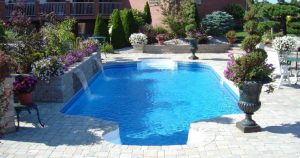 Pool Design: Choose from pre-fabricated shapes to fit your backyard, including a classic rectangular configuration to a curvaceous natural-looking lagoon and everything in between. Bench seating and pool covers are also available on most models.
Interior Finish: Choose from up to a dozen different patterns, each available in multi-color selections. Take special care with toys and pets to maintain a puncture-free surface of your liner.
Decking & Coping: You have a number of decking options to choose from – stained concrete, stamped concrete, natural stone, cool deck, deck pavers or tile. We can customize your new private resort to match your personality.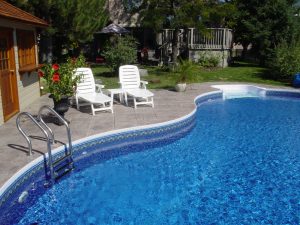 Upgrades & Accessories: It is generally more cost effective to include any extra features you want in your vinyl pool at the time of initial installation, however, any feature can be added after installation. You can also accessorize your backyard poolscape with volleyball and basketball setups, grills, safety fencing, slides, loungers, automatic covers and outdoor furniture. Our specialist will help you find the best options for you.
We're looking forward to starting your project and making the pool of your dreams a reality. Get in contact with us today or visit any of our 3 locations in Dallas, Allen and DeSoto.
Thank you for a beautiful pool & excellent service!
The Reels
We are so pleased with our pool and the service from Crown Pools! We initially did a phone consultation and...
Kristi
Kaufman, TX
We bought our first above ground pool about a month ago from your DeSoto,TX store. I would like to say...
Johnny
Red Oak, Texas
I just want to let you know how happy I have been with my pool purchase in 2001 and the...
George
Allen, TX
I just wanted to let you know we are extremely happy with our Crown Pools. Buying the 41x 21 sized...
Tom
Lucas, TX
We have now had our Doughboy Pool for almost a year now and I can tell you that we have...
Albert & June
Allen, Texas
I am writing to express my thanks for the assistance from one of your employees, Amanda, You need to know...
Carri
McKinney, Texas
l am totally amazed with my experience this past week. I cannot to tell you how "painless" the process of...
Pam
Allen, TX
I have thoroughly enjoyed the pool. It looks very nice and is very relaxing. I would recommend your pools to...
Dennis H.
We are so pleased with Crown Pools! From the time we walked in your store, had our very thorough consultation,...
Sean and Mary Ann
DeSoto, TX